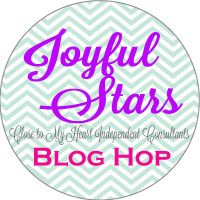 Welcome to the Joyful Stars October blog hop, where a group of talented Close to My Heart consultants, and me, gather to share ideas with you in a fun blog hop.
Step Cards are not hard.
But I sure tried my best to make it hard, scoring wrong, cutting wrong, embossing the paper upside down, blotching the ink when I stamped, matching the wrong snowflake stamps with the wrong thin cuts. It was just one of those days.
Miraculously, here is my finished side step card:
The patterned paper is from the City Sidewalks paper pack.
The shapes were all cut with the CTMH matching Thin Cuts, which cut perfectly
on cardstock and glitter paper,

with only one pass through my Cuttlebug.
Your next stop is Stephanie Brown's blog. The hop is circular. So if you are just starting here, simply continue hopping until you find your way back, making the full circle. If you get lost, the complete list of participants is on Joyce's blog.