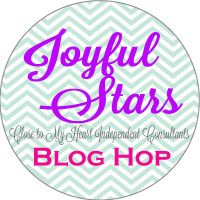 Welcome to the Joyful Stars November blog hop, where a group of talented Close to My Heart consultants, and me, gather to share ideas with you in a fun blog hop.
My card this month is a variation of the double curtain fold.
For some reason, every time I put adhesive on the back of a double curtain fold my eye saw an evergreen tree. Now that it's time to put Christmas trees on cards, I thought I'd give a double curtain fold tree a try.
Actually, I had no choice. My stupid brain was not going to let me create anything else until I did!
The card above was made using some CTMH retired paper.
Here's a version using the current CTMH Oh Deer Paper and some of the beautiful Sea Glass glitter paper.