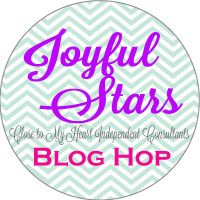 Welcome to the Joyful Stars August blog hop,
where a group of talented Close to My Heart consultants,
and me,
gather to share ideas with you in a fun blog hop.
Everyone sharing ideas on this hop (except me) is a consultant. They are all excited about the new products in the new 2016-2017 Close to My Heart Catalog. Unfortunately, I can't share the new products with you until next month, because I don't have any yet. But, as of August 1st, anyone can order from the new catalog, (plus there is a great special for this month.) and I do have my eye on a couple of items.
For this month's hop, I'm sharing a double gate fold card using a sheet of paper from the Happy Times paper pack which was a CTMH special a few months ago. I think this is the prettiest sheet of paper in the pack.
The flowers are cuts on the Art Philosophy cricut cartridge.
If you like flowers, you'll be heaven with the new CTMH Cricut Flower Market cartridge now available.
Now, since this is a blog hop you might have arrived here
Your next stop is Nancy Brown's blog. The hop is circular. So if you are just starting here, simply continue hopping until you find your way back, making the full circle. If you get lost, the complete list of participants is on Joyce Houck's blog.
Challenges:
Dragonfly Dreams Challenge - More than 1 fold
The Crafter's Cafe Challenge - Flowers
Through the Craft Room Door Challenge - Always Anything Goes
Inky Chicks Challenge #70 - 5 or more flowers