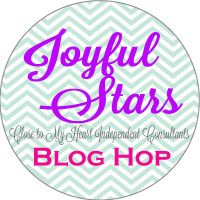 Welcome to the Joyful Stars September blog hop, where a group of talented Close to My Heart consultants, and me, gather to share ideas with you in a fun blog hop.
Not too long ago, my friend, Betty Locco, sent me a link to a card that she thought was right up my alley. She knows I have an obsession with different card folds. The link she sent was for a Peek a Boo card. And from there, I found an entire blog hop of Peek a Boo cards and tut
orials, too!
I've saved my first Peek a Boo card for this blog hop.
card front
card partially open - see the sentiment sliding over to hide the kangaroo?
open card - well, almost totally open; when flat the sentiment lines up perfectly in the opening
The stamp set I used is D1597, Hoppy Birthday Australasia.
You can find it here.
The tutorial for the card can be found here.
Your next stop is Andrea Sherman's blog. The hop is circular. So if you are just starting here, simply continue hopping until you find your way back, making the full circle. If you get lost, the complete list of participants is on Joyce's blog. I've made my way around the circle and I think you'll want to, too.
You might also be interested in seeing the cards we made at
Joyce's Annual CTMH Christmas Card Extravaganza.
While you do some hopping, I am going to enter this card in the following challenges: