My mother and I have been enjoying watching our sunflowers grow this summer. I purchased a sunflower seed mat from friends who were raising money for their Relay for Life team. I planted half here and the other half at Mom's. Hers are much larger than mine. Just hoping they will feed a few birds this fall.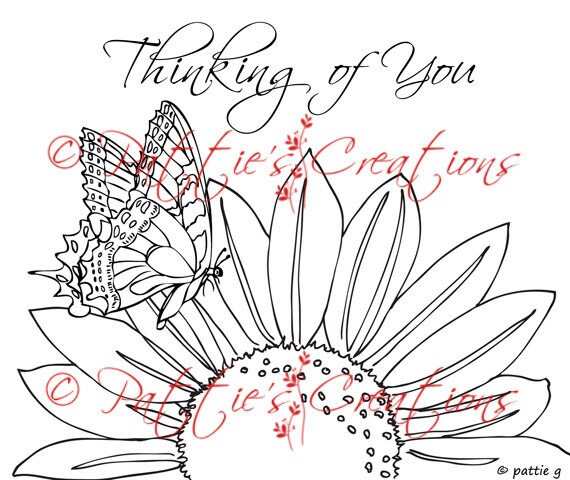 I've been meaning to make a card with this digi image, one of
Pattie's Creations
available on Etsy. Every time I see Pattie's smiling face on
her blog
, I can't get over the resemblance to one of my childhood friends, Linda. It almost makes me feel like I know Pattie. I do know she has some cute digis and she usually has freebies the 1st Friday of the month.
After coloring I added a thin layer of clear glitter gel to the butterfly wings for bit of shine. The white lace is by Reflections and is self stick. I made a small bow with Autumn Spice ribbon that I got from
LoveBug Creations
and placed it on top of 2 die cut scalloped ovals that were glued together and dry embossed. I used some Dotty Paper from Close to My Heart. (It was a promotional pack of DP, unfortunately no longer available, but I do have some bits and pieces left.) The 2 squares were done the same way. And the card itself is kraft paper.
(The RB post says it's Challenge #8; the sketch says #6.)
This card is on its way to a dear friend in Arizona, after I enter it in the following challenges:
The Rubber Buggy Challenge #8
- see sketch above
Patti's Creation Design Challenge #70
- Summertime Fun
Craft-Dee-Bows July Challenge
- Anything Goes with a handmade bow
Paper Crafting Journey Challenge
- Anything but a Square Card
Make It Monday Challenge #148
- Always Anything Goes with Milk Coffee Stamps
Love to Scrap! Challenge #9
- Anything Goes
Digi Makeover Challenge #96
- Anything Goes
Through the Craft Room Door July 9th Challenge
- Anything Goes
My Craft Creations Challenge
- Anything Goes
Country View Craft Challenge
- Summer Sizzler for 5
House of Gilli Challenge
- Bright Summer Colors
The Crafters Cafe Challenge #19
- Anything Goes
That Craft Place Challenge
- Ribbons and/or Lace
The Ribbon Girls July Challenge
- Add a Bow
BTW - Here are the cards we made at
Joyce's
class yesterday:
Right now Joyce's Joyful Stars team is having their
July Blog Hop
. Joyce has an awesome card posted using some of the new CTMH products. And there is a new, exclusive, CTMH cricut cartridge available Aug. 1st. You can check it out
here
and preorder through Joyce.