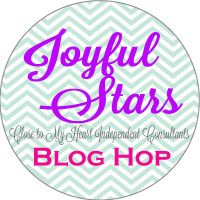 Welcome to the Joyful Stars July blog hop, where a group of talented Close to My Heart consultants, and me, gather to share ideas with you in a fun blog hop.
CTMH's newest Seasonal Expressions catalog is full of new products. For my card, I've used paper from the Magical paper pack and the Amusement Park stamp set to make this very interesting Twisted Treat Box and gift tag.
I first saw this box on Sue Reynolds' blog in the Color My Heart Color Dare blog hop. Fortunately, Sue supplied a link to a You Tube video with the instructions.
Here are a few more photos from different angles:
View from above of medallions (CTMH Cricut Artiste cartridge) and gift tag.
Inside of tag.
Inside of top section of box.
The dp under and behind the box are also from
the Magical Paper Pack.
Now, since this is a blog hop you might have arrived here
Your next stop is Crystal Davis's blog. The hop is circular. So if you are just starting here, simply continue hopping until you find your way back, making the full circle. If you get lost, the complete list of participants is on Joyce's blog. I've made my way around the circle and I think you'll want to, too.
I am entering this twisted box in these challenges: