Welcome to the February
Close to My Heart Joyful Stars Blog Hop.
Have some fun hopping between the blogs of this group of talented Close to My Heart consultants, and me, where we share creative projects using CTMH products.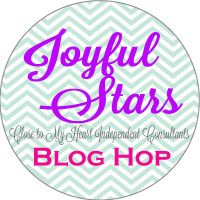 This month I've made a sliding gift card holder
using Daddy bunny stamp from the
Close to My Heart February Easter Bunnies SOTM set (S1702)
and the Happy Happy Birthday stamp (M1142).
As you open the card, a pocket slides up to reveal the gift.
(
I just used my Winn Dixie rewards card for demonstration as it was close at hand.
)
The paper pack is Sugar Rush (X7215B)also from CTMH.
Originally I made the card above for my son,
who wears a blue shirt of some design and tie to work every day.
He has so many blue shirts, I bet he can wear a different one every day for at least 2 months before bundling them up to take to the cleaners. I think he collects shirts like I collect embossing folders.
Then I started second guessing myself and decided it was maybe too juvenile for a grown man. So the card above will go in my stash for now and, using the same CTMH papers I made a second card for Rob.
The hop is circular. So if you are just starting here, simply continue hopping until you find your way back, making the full circle. If you get lost, the complete list of participants is on Joyce's blog.
Thanks for hopping by.
Challenges I am entering: