Christmas is fast approaching. Not a particularly good time for Barbara to fall and bust a hip. With my temporary craft area (moved from the dining room table for Thanksgiving thru Christmas) littered with Christmas papers, I chose some of the Close To My Heart Oh Deer papers to make her a get well card. I thought a busted hip definitely deserved an Oh Deer!
It wasn't until after I made this card, that I decided to use it for the December Joyful Stars Close To My Heart Blog Hop.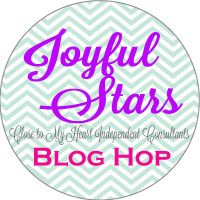 Welcome to the Joyful Stars December blog hop, where a group of talented Close to My Heart consultants, and me, gather to share ideas with you in a fun blog hop.
After cutting the letters for the card above out of the beautiful CTMH sea glass glitter paper, I was left with a negative that I just could not resist using.
The hop is circular. So if you are just starting here, simply continue hopping until you find your way back, making the full circle. If you get lost, the complete list of participants is on Joyce's blog.